Single Sign-On (SSO)
The Right Health Information To The Right Place At The Right Time
Single Sign-On (SSO) is a CRISP feature implemented to enable quicker and more efficient access to the query portal through an organization's EHR. SSO enables clinical staff to click a single button inside their EHR to pull up that patient's medical record.
How Does SSO Work?
Through integration with the EHR vendor, a user who is logged in to a patient's chart can click on a CRISP button that is built directly into the EHR. When the button is clicked the user and the patient information is securely transmitted to CRISP. CRISP then launches a window within the EHR that displays clinical information from the patient summary screen of the Clinical Query Portal.
Benefits of SSO:
Securely access CRISP clinical data without leaving your EHR
Removes need to upload patient panels
Eliminates 5 steps from the usual process to access CRISP information
Saves time
CRISP does not charge for SSO, however some EHR vendors will charge for the initial integration. For more information and to sign up for Single Sign-On (SSO) call 1.877.95.CRISP(27477) or email support@crisphealth.org.
Read the Winter 2015 edition of e-Health Update to see what Dr. Jonathan Ringo has to say about the impact of SSO on Sinai Hospital in Baltimore.
In-Context Alerts (One-Click/No-Click Access)
What Are In-Context Alerts?
A Hospital EMR user can receive alerts about their patient within their EHR workflow without needing to navigate to the CRISP Query Portal. In-Context Alerts deliver high-level information designed to support physician decisions by sharing key information on the patient. CRISP exposes data to authorized applications via Application Program Interfaces (APIs), which enable content delivery into the EMR. The In-Context Alerts delivery systems are typically bundled with Single Sign-On (SSO) to accelerate the access to more complete information on the patient.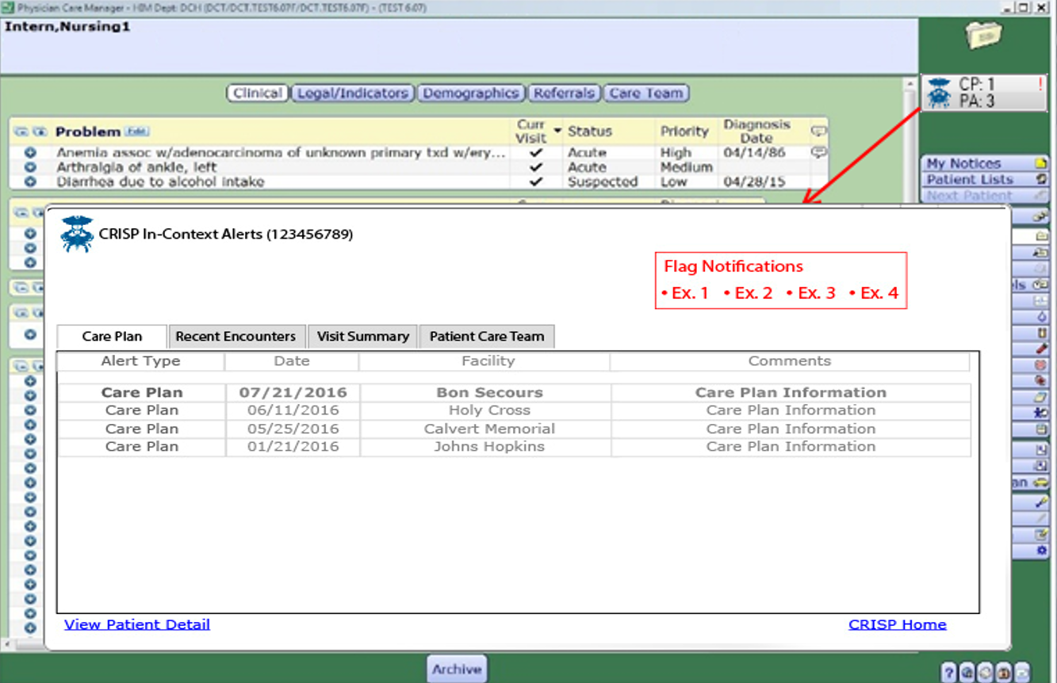 Example of In-Context Alerts in Meditech EMR system.
Alerts Currently Available

PDMP Data delivered via NCPDP SCRIPT
Alerts are delivered via FHIR message or C-CDA documenation
CRISP can assist in identifying a vendor to deliver Alerts/PDMP Data
Updated 4/2/2019