CRISP Clinical Query Portal
CONNECT. SHARE. IMPROVE PATIENT CARE
The CRISP Portal is a free tool available to clinical staff. As clinical information is created and shared with CRISP, it is made accessible in real time to participating health care providers through the CRISP Portal. The portal gives providers the ability to securely look up patient information through the internet. The portal retrieves the clinical data from participants and displays it in a view-only screen at the point of care. The CRISP Clinical Query Portal facilitates the sharing of patient data across institutional boundaries and provides physician practices access to real-time clinical information from all CRISP participants. Available clinical data includes: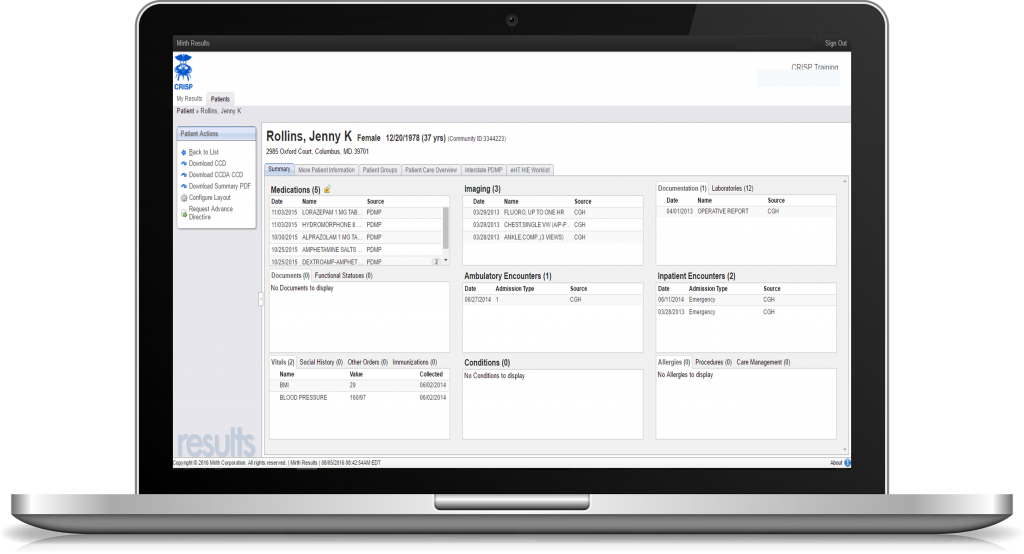 Access to real-time clinical information from all CRISP participants, including:
Lab Results
Radiology Reports
Discharge Summaries
History and Physicals
Consultations
Operative Notes
Transfer Summaries
Prescription Drug Monitoring Program (PDMP) Data
ImmuNet
Patient Care Overview
The CRISP Patient Care Overview is an on-the-fly compilation of care management data that might be relevant for a provider or care manager at the point of care. The Care Overview will be accessible via one-click from the patient's CRISP summary page within the Clinical Portal and will display the following elements:
Patient Attribution – Uses ENS data to indicate who is involved (i.e., organization that receive the patient's ENS alerts) in the care of the patient
Prior Admissions – Provides a list of encounters in the last 60 days
Care Alert – A short summary of the most pertinent information needed for acute care. Available as a pilot with AAMC and BWMC.
Care Manager Attribution – List of care management programs in which the patient is enrolled, alongside the name of the care manager and their contact information.
Care Plan Availability – In-context alert that indicates whether a care plan is available on the CRISP Clinical Query Portal. (Available June 2016)
Payor-Submitted Risk Scores – If available, a payor can submit a risk score to CRISP. It will display in the portal with an explanation of the score and the name of the submitting organization.
Image Exchange
Image Exchange allows providers to access zero-footprint, diagnostics quality images for their patients through the CRISP Clinical Query Portal.Providers can log in and view multiple images from all participating sites in a single viewing session eliminating the need to import and export images on CDs. Additionally, in an emergency participating hospitals can publish images ahead of a read report for specialists to view and aid in triage and treatment decisions.
Who Contributes Health Information?
All 49 acute care hospitals in Maryland and 7 acute care hospitals in DC are working with CRISP. To see which of these hospitals are currently providing clinical information, visit out Participating Providers page here.
Frequently Asked Clinical Query Portal Questions
No. The CRISP Portal is available through the Internet. All you need is an Internet connection.
The CRISP Portal is currently free to ambulatory practices.
In order to get started using the query portal, an organization must sign a CRISP Participation agreement for single sites
single sites
or for organizations with
multiple sites
and must update its
Notice of Privacy Practices
documents. If your organization has already signed a participation agreement, you will be able to skip this step during the onboarding process.
The participation agreement is the uniform data sharing agreement signed by every organization that participates in CRISP. It ensure that everyone sharing data follows the same rules and regulations.
Updating your NPP ensures that your practice does its part to inform patients about how CRISP is being used to deliver and coordinate care, and informs them of the right to opt out.
Organizations must have

CRISP Opt-Out Forms on site to distribute to patients who ask for one. They must also maintain copies of the

Patient Factsheets in registration areas.
New users without an agreement will be prompted to upload one during the onboarding process.
In addition, an organization must:
Submit

LabCorp/Quest Data Release Form if it wishes to make its results available in CRISP.
Send a patient panel (all patients seen within the last 18 months) using DIRECT secure email to panelupload@crispdirect.org . This patient list will be used to audit your organizations's future activity to help ensure appropriate use. Here is a sample

Patient Panel.
In order to send us your panel, please email support@crisphealth.org to request a DIRECT secure email address. Then, follow these

instructions
Click here to get started.