Ambulatory Integration
Improving Care Coordination for our Region's Patients
CRISP is currently integrated with numerous provider organizations across the region, including all 47 acute-care hospitals in Maryland and many in DC. Ambulatory Connectivity will focus on expanding integrations with providers in multiple care settings beyond the hospitals to include both physician practices and post-acute care facilities. This connectivity will facilitate the electronic access and exchange of patient information between providers. The purpose of this is to improve health outcomes, reduce costs, and improve care coordination among providers by making clinical data from multiple care settings available to providers at the point of care.
What Data Is Shared?
CRISP desires a comprehensive data set for each patient (CCDA, Clinical Feed, & Basic Visit Data), however there may be varying limitations in the data accessible among different EHR vendors.
Who Can Have Access?
Patient data will be available to all providers affiliated with that patient's care via CRISP's Clinical Query Portal. The information can be used for patient care decision-making at the point of care.
Information is not shared with health plans without the specific consent of the practice.
What Are The Benefits?
Aside from greater care coordination of their patients, integrated practices can:
Auto-subscribe to CRISP's electronic notification service (ENS) without the need to submit a monthly patient panel.
The integration can also serve as a bidirectional exchange of data. Depending on your EHR system, not only will you be sending patient data from your EHR system to CRISP, CRISP can send patient data back to you to be displayed in your EHR system.
How Do I Connect?
CRISP will look to integrate ambulatory practices in a number of different ways:
Working with you and your EHR vendor to coordinate the integration with CRISP
Utilization of 3rd party vendors to help connect your practice with CRISP
Working with administrative networks (e.g. integration with clearing house and payers) to collect claim data
Is There A Cost?
CRISP does not charge ambulatory practices to integrate with CRISP.  CRISP encourages all practices to participate in the Integrated Care Network and with the support of the state, CRISP has funding to help offset costs associated with connecting to CRISP.  The ambulatory practice's EHR vendor may charge the practice with a one-time setup fee as well as an ongoing maintenance fee.  CRISP will work with the practice and the vendor to cover the setup fee and help offset ongoing costs where feasible.
What Are The Requirements?
Participating organizations are required to sign a participation agreement with CRISP. They are also required to update their Notice of Privacy Practices (NPP), to include language on their participation with CRISP, as part of HIPAA notification. Patients are able to opt-out of CRISP. When opted-out of CRISP, their clinical information will not be made available. According to federal law, patients cannot opt-out of the Prescription Drug Monitoring Program (PDMP) data.
EHR Connectivity as of 7/5/2018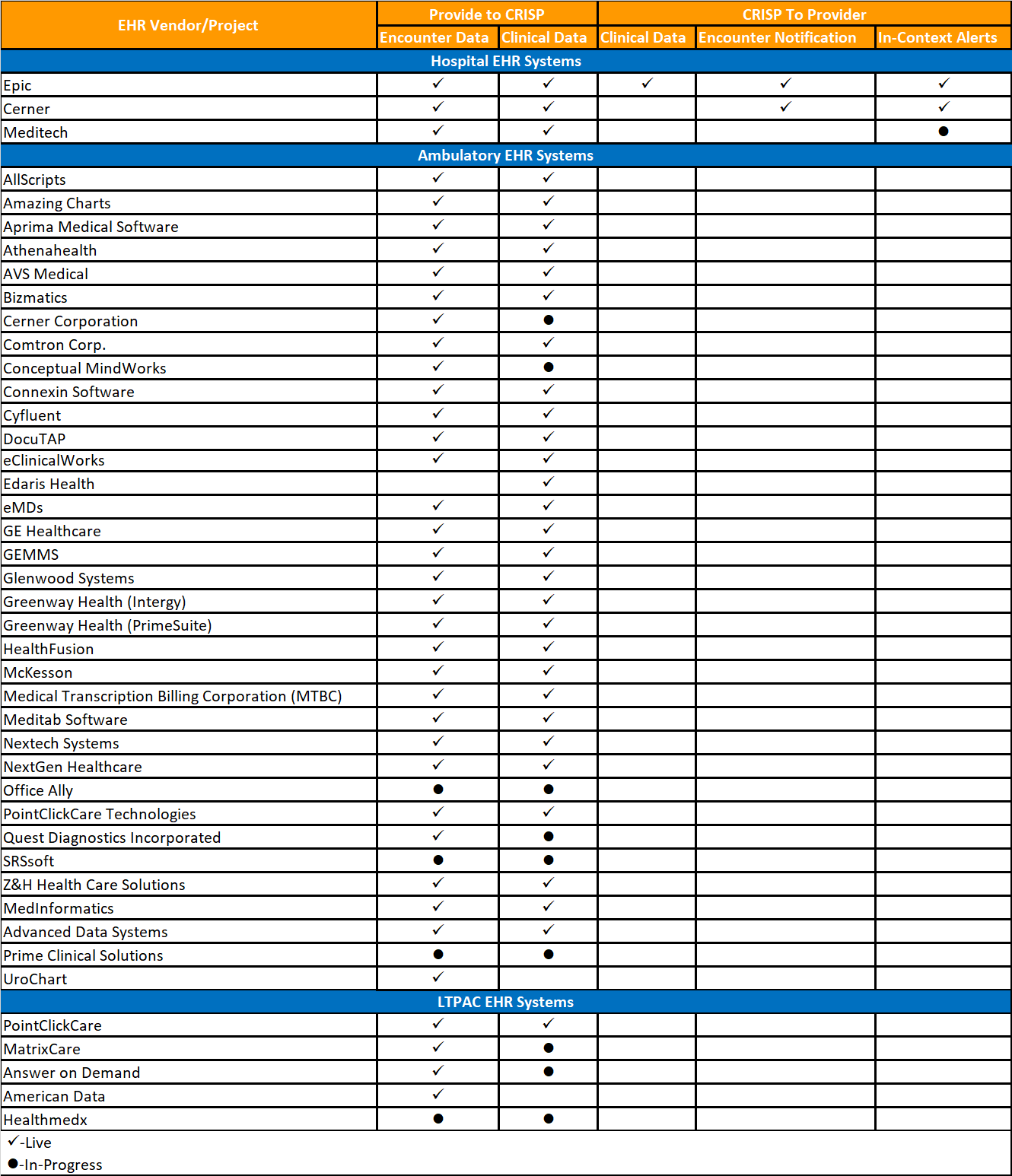 For more information about integration with CRISP and to sign-up, please contact outreach@crisphealth.org.