Patricia M.C. Brown, Esq., is Senior Vice President of Managed Care and Population Health of Johns Hopkins Medicine, President of Johns Hopkins HealthCare LLC, a managed care and population health organization owned by the Johns Hopkins Health System and the Johns Hopkins University School of Medicine, and Senior Counsel for the Johns Hopkins Health System. In these roles, Ms. Brown is responsible for the administration of all Johns Hopkins managed care products for over 300,000 individuals enrolled in self-funded employer, Medicaid, and Department of Defense health benefit plans. Ms. Brown is a Phi Beta Kappa graduate of the University of Richmond and has a Juris Doctorate degree from the University of Baltimore. Prior to joining Hopkins in 1994, Ms. Brown was an Assistant Attorney General with the Maryland Office of the Attorney General, Department of Health and Mental Hygiene.
Michael J. Curran is executive vice president and chief administrative and financial officer for MedStar Health, wherein he is responsible for administrative and financial aspects of more than 25 companies that comprise the system. He has oversight of operations for finance, information systems, facilities, property and supply chain management, as well as performance improvement efforts. He also manages MedStar Health's financial models in support of its strategic plan and decision support tools used to help direct operations.
Prior to joining MedStar Health, he served as the CFO and treasurer of the Jefferson Health System, the largest healthcare delivery network in the Philadelphia region. Michael began his career with the international accounting firm Deloitte & Touche, and then later joined the finance department of Thomas Jefferson University, where he spent 10 years.
As a certified public accountant, Michael also holds a master's degree in organization dynamics from the University of Pennsylvania and a Bachelor of Science in accounting from St. Joseph's University in Philadelphia. He is a member of the American Institute of Certified Public Accountants and the Healthcare Financial Management Association. He also serves on the Council on Financial Policy of the Maryland Hospital Association.
Presently, Michael is a member of the Board of Directors of Vizient Central Atlantic. He is also a member of the Board of Directors of the MNS Supply Chain Network and recently served as the chairman of its Board. He previously served on the Board of Directors of the Glenelg Country School in Howard County, Maryland, the American Red Cross Regional Board of Directors, the Juvenile Diabetes Research Foundation Board of Directors and as vice chairman for the Board of the Elwyn Institute.
Patrick Dooley is the Vice President for Population Health at the University of Maryland Medical System. He is responsible for working with stakeholders across the medical system and the community to implement strategies that improve health outcomes and provide care in the most appropriate, cost effective setting.
Patrick also serves as the Executive Director of the University of Maryland Quality Care Network, a network of employed and independent primary care providers throughout the state. The UMQCN contracts with multiple payers – Medicare, Medicare Advantage, Medicaid, and Commercial – on value-based payment programs that reward the providers of the UMQCN for improving quality and reducing unnecessary utilization for patients.
Patrick was formerly the Chief of Staff and Assistant Secretary for Regulatory Affairs at the Maryland Department of Health and Mental Hygiene from October 2011 to August 2014. At the Department, Patrick focused on a range of public health and regulatory issues impacting the State, interacting regularly with State legislators and public policy experts.
Prior to working for the Department, Patrick was Chief of Staff for Chairman Peter A. Hammen of the Health and Government Operations Committee of the Maryland House of Delegates. The committee has jurisdiction over all legislation relating to health care, as well as state procurement and civil rights.
Patrick has an undergraduate degree from the University of Maryland and a master's degree from Johns Hopkins University.
Adam Kane manages the corporate affairs for Erickson Living, including business development, government relations, regulatory affairs, public relations. His areas of expertise include various aspects of health care regulation, CCRC financial regulation and the support of zoning and entitlements for start-up campuses. Mr. Kane serves as Chair-Elect of Mid-Atlantic LifeSpan, a long-term care trade association in Maryland, as well as on the University of Maryland School of Social Work Board of Advisors. He earned an M.B.A. from the Wharton School of Business at the University of Pennsylvania, a J.D. from the Georgetown University Law Center, an M.A. from the University of Maryland and has completed senior housing specific certificate coursework at the Erickson School at the University of Maryland Baltimore County.
Tricia Roddy is the Director of the Medicaid Planning Administration at the Maryland Department of Health and Mental Hygiene, a position she has held since 2004. Between 2001 and 2004, she held various other leadership positions within the Maryland Medicaid program, including Chief of Staff to the Medicaid Director and Deputy Director of Provider Management. In her current position, Ms. Roddy is responsible for planning and evaluation activities for the Medicaid program. The Program's annual budget is roughly $8 billion and it provides access to health care services for over one million low-income individuals. Prior to working for the State of Maryland, Ms. Roddy was a manager with Cap Gemini Ernst & Young's healthcare consulting practice and was based in the Washington, D.C. office. She holds Masters of Health Services Administration and a B.A. in Economics degrees from the University of Michigan.
Since joining MedStar in 2006, Ms. Schneider has served as the Vice President of Application Services wherein he was responsible for selection, implementation and support of all software for MedStar's group of hospitals clinics, insurance business, pharmacies, physician offices, businesses and research organizations. In this role Mr. Schneider had successfully implemented portal strategies to improve access for patients, physicians, stage, and the public, and was further instrumental in deploying both internal and external HIE strategies within MedStar, including system-wide connectivity to CRISP. He also currently serves as Adjunct faculty in Healthcare Leadership for Brown University, a position he has held since 2012.
Mr. Schneider had previously served as Vice President of Implementations for GE/IDX, during which time he led the effort to streamline costs, improve quality and customer satisfaction measures, and overhaul training practices to incorporate health care business knowledge and process management skills to base. He also directed the replacement of all major IDX business systems with a new ERP system from Oracle, a comprehensive process which spanned 3 years.
Prior to joining GE/IDX, Mr. Schneider worked with Accenture, a multinational consulting and IT firm, where he focused on developing IT methodologies and tools for strategic management as well as conducted project work for health care and insurance clients. He also spent eight years as the Manager of Health Care Practice for Arthur D. Little, Inc., wherein work focused on providing information technology strategies for hospitals as well as developing health care market strategies for information technology vendors.
Mr. Schneider holds B.A.s in Biology and Psychology from the University of Rochester, a Certificate in Health Care Administration from the Sloan Institute of Health Care Administration, and an M.B.A. from the Johnson School of Management of Cornell University.
Vincent Ancona
Amerigroup Maryland
Ernest Carter, M.D., PhD
Prince George's County Health Department
Alicia Cunningham
University of Maryland Medical System
Willarda Edwards, M.D.
Drs. Edwards & Stephens, Internal Medicine
John Erickson
Erickson Living
Matt Narrett, M.D.
Erickson Living
DeWayne Oberlander
Columbia Medical Practice
Stephanie Reel
Johns Hopkins University
Howard Haft, M.D.
Maryland Department of Health and Mental Hygiene
David Horrocks (President)
CRISP
Brandon Neiswender (Vice President)
CRISP
Kim Morsberger is the Chief Finance Liaison Officer of the Johns Hopkins Hospital/Johns Hopkins University School of Medicine Incident Command Center (Emergency Management Team). She is an analytical healthcare professional specializing in financial management, analysis, and leadership in an increasingly complex regulatory environment and has spent most of her 35-year career at the Johns Hopkins Health System (November 1988-present). Prior roles within the organization include Assistant Director of the Financial Analysis Unit, Senior Consulting Manager, Project Manager, and General Accounting Manager. Prior to joining Johns Hopkins, she was employed at Sinai Hospital where her roles included Accounting Manager and Accounts Payable Manager.
Kim holds a Bachelor of Science degree in Business Administration, concentration in Accounting, from University of Baltimore.
Traci La Valle is the Vice President, Financial Policy & Advocacy at the Maryland Hospital Association. MHA advocates for Maryland's hospitals, health systems, communities, and patients before legislative and regulatory bodies. In her financial policy role, Ms. La Valle works to ensure fair and reasonable policies related to Maryland and national payment systems, audit programs, revenue cycles, and billing and collection practices. Most recently, she has been working on quality-related payment methodologies, and thinking about how the Maryland payment and care delivery models will change under a new Medicare waiver that supports slower growth in total health care spending, and better patient and population health outcomes. Ms. La Valle has a Master of Public Health and a Certificate in Health Finance and Management from Johns Hopkins School of Public Health, and a Bachelor of Science in Physical Therapy from Temple University.
Tressa Springmann is Chief Information Officer (CIO) for LifeBridge Health. LifeBridge Health, which includes Sinai Hospital of Baltimore, Northwest Hospital, Levindale Hebrew Geriatric Center and Hospital, and Courtland Gardens Nursing & Rehabilitation Center, is one of the largest, most comprehensive providers of health services in northwest Baltimore. Ms. Springmann is responsible for ensuring that the information systems and services used support the organization's mission and strategy by providing the necessary tools for patient care providers to deliver the best care for patients at the bedside, in the office and in the community. Previously, Ms. Springmann was the CIO at Greater Baltimore Medical Center. Ms. Springmann earned her master's degree in business from Johns Hopkins University in Baltimore, Maryland, and a bachelor's in biology from St. Mary's College of Maryland in St. Mary's City, Maryland.
Dr. Jonathan Thierman is the Chief Medical Information Officer (CMIO) for LifeBridge Health and the Vice-Chairman of the Medical Staff for Northwest Hospital. He is leading LifeBridge into the digital medicine era with initiatives including a system telehealth platform and big data analytics to improve patient throughput, system efficiencies, and the delivery of quality care across the continuum. He also oversees and continues to work on projects related to physician system optimization and engagement.
Prior to his role as CMIO, Dr. Thierman served as Associ¬ate Medical Director of Northwest Hospital's Emergency Department where he also provided clinical care for a number of years. He continues to practice at both Sinai and North¬west Hospitals EDs.
Dr. Thierman holds a Ph.D. in mechanical and biomedical engineering from the Health Sciences and Technology Program at MIT. He earned his medical degree from Harvard Medical School and completed a residency in Emergency Medicine at Johns Hopkins, where he was chair of the Emergency Medicine Informatics Committee. He is a fellow of the American College of Emergency Medicine and continues to practice in the Emergency Departments at LifeBridge.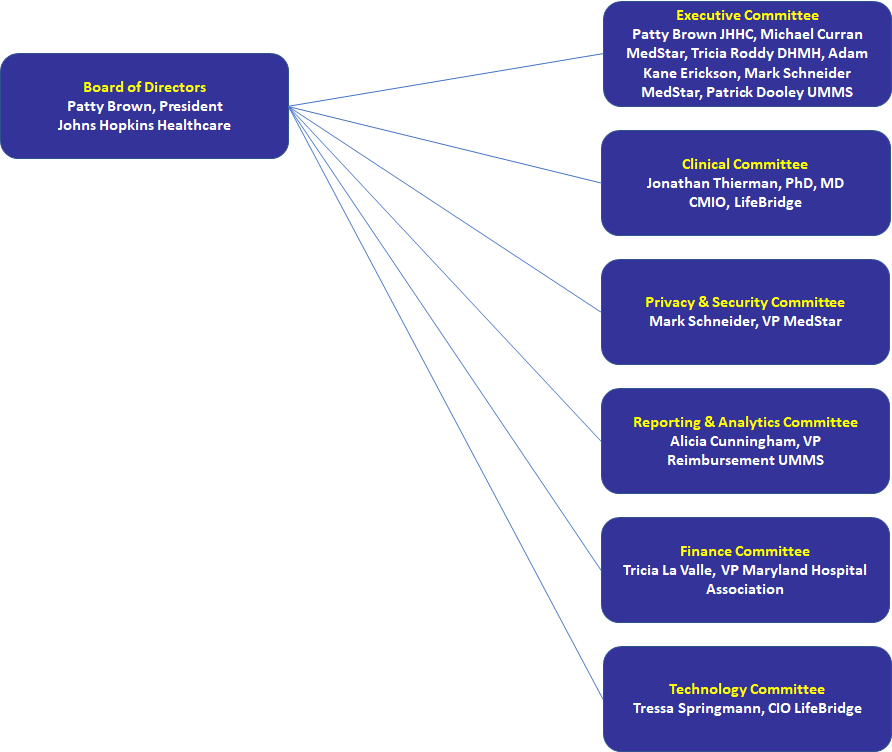 Advisory Committees
At CRISP's inception, an HIE Policy Board was convened by the MHCC. The board has oversight authority for establishing the policies that govern the statewide HIE. For more information about the Policy Board click here. Additionally, CRISP, in coordination with the MHCC, has developed a governance model that includes a Board of Advisors to provide guidance and input to the CRISP Board of Directors on certain key decisions during the development and operations of the HIE. The Board of Advisors is intended to be broad-based to ensure that a breadth of interested organizations have the opportunity to participate and represent their constituencies. There are currently over 30 organizations represented.
The Board of Advisors is organized into the five committees below.
Clinical Advisory Committee – Jonathan Thierman, PhD, MD, Chair
Committee reviews and provides guidance surrounding CRISP's plan for exchange service implementations. This includes providing a clinical perspective on CRISP activities, and helping to prioritize HIE service deployments. The committee also assists in gathering information and perspectives from the broader stakeholder community pertaining to HIE services, assists in garnering support and use of HIE services, and assists in assessing the value associated with various CRISP service offerings in terms of clinical relevance and service value in various care settings.
Technology Advisory Committee – Tressa Springman, Chair
Committee reviewed and commented on the exchange technology request for proposal, participated in the RFP response evaluation and selection process, and provided guidance and expertise on infrastructure and other technology related decisions. Responsibilities also include: providing guidance on network security and data encryption best practices; providing oversight of the performance of technology solutions, once deployed; assessing specific technology solutions surrounding areas such as single sign-on, audit protocols, role-based access, and master patient indexing; and assisting in the development of strategies for integrating end-point.
Finance Advisory Committee – Traci La Valle, Chair
Committee reviews and provides guidance on CRISP revenue and pricing models. It is refining and modifying assumptions associated with the CRISP revenue model, evaluating how federal funding requirements impact existing revenue planning, evaluating how federal funding opportunities tie into CRISP financing, and assessing specific HIE services with regards to financial sustainability.
Privacy & Security Advisory Committee – Mark Schneider, Chair
The Committee provides guidance on privacy and security issues related to clinical data managed through CRISP and works regularly with the Privacy & Security Officer (PSO) who is responsible for all such matters as they pertain to CRISP's daily operation. Additionally, the Committee serves as a resource for best practices and recommended policies for HIPAA data security, data use, and data sharing, and provides continual guidance on internal and external HIPAA audits as well as any HIPAA security-related incidents that may occur within CRISP.
Reporting & Analytics Advisory Committee – Alicia Cunningham, Chair
The Committee develops, guides and prioritizes reporting and analytics services designed to support statewide efforts of improving care and reducing costs. Additional Committee responsibilities include assessing the value and relevance of reports for a wide array of users, providing guidance on data tools for report dissemination, such as user guides and other information to enhance understanding of the analysis, and to provide direction and vision in short, mid, and long-term planning of services. CRISP has developed basic reports to support initial hospital needs in monitoring performance on readmission goals.